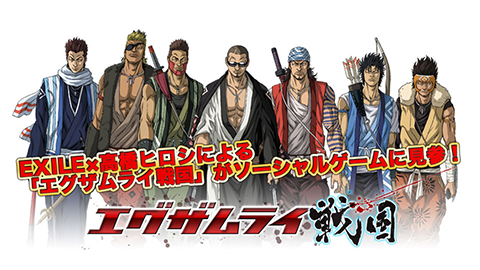 Mobile Social Game "Examurai Sengoku" Now Released

The Social Game "Examurai Sengoku, Based on Exile, Is Now on Mobage!

The Big Thanks Fight Festival Event!

Aim to become a "true samurai" with the Examurai!
Join forces with Examurai to defeat your nemesis, Kagura!
The mobile social game "Examurai Sengoku" was released on March 25, on GREE!
Mobile URL: http://pf.mbga.jp/12002282 (mobile only)
PC version special PR site: http://ex-game.jp (PC only)

The Examurai Sengoku Committee, Tasuke (Head Office: Minato, Tokyo; Representative Director: Minako Uehara), and ULTIMEDIA Inc. (Head Office: Hachioji City; Tokyo; Representative Director: Shigemi Sasano) are pleased to announce the launch of the smartphone version of the manga/anime work "Examurai Sengoku" produced by HIRO of EXILE on the feature phone version "mobage." The game is free with in-app purchases available.
Examurai Sengoku is a card battle RPG where the objective is for players to become friends with 'Examurai' to defeat their nemesis Kagura.
To defeat your nemesis "Kagura," you will complete missions from the members of Examurai and hone your skills to become a true samurai as you battle enemies.
Battles employ a card system, and there are more than 200 Examurai cards that you can enjoy collecting.
There are also a number of interaction elements with other players.
You can become friends through "fights," fight for the treasures scattered around Yasaka, and even give them away as gifts.
In addition, you can buy beautiful Japanese avatars and weapons at Yorozuya, so female players who want to stand out with their avatars as opposed to focusing on gear can also enjoy the game.
What is Examurai Sengoku?

Examurai Sengoku is an anime and manga work based on the music unit EXILE.
The work is based on the plan and original idea of Hiro, the leader of EXILE, the character design was drawn by popular manga artist Takahashi Hiroshi, and the TV animation was broadcast on Nippon TV's "EXILE GENERATION" from January 10, 2009.
Screenshots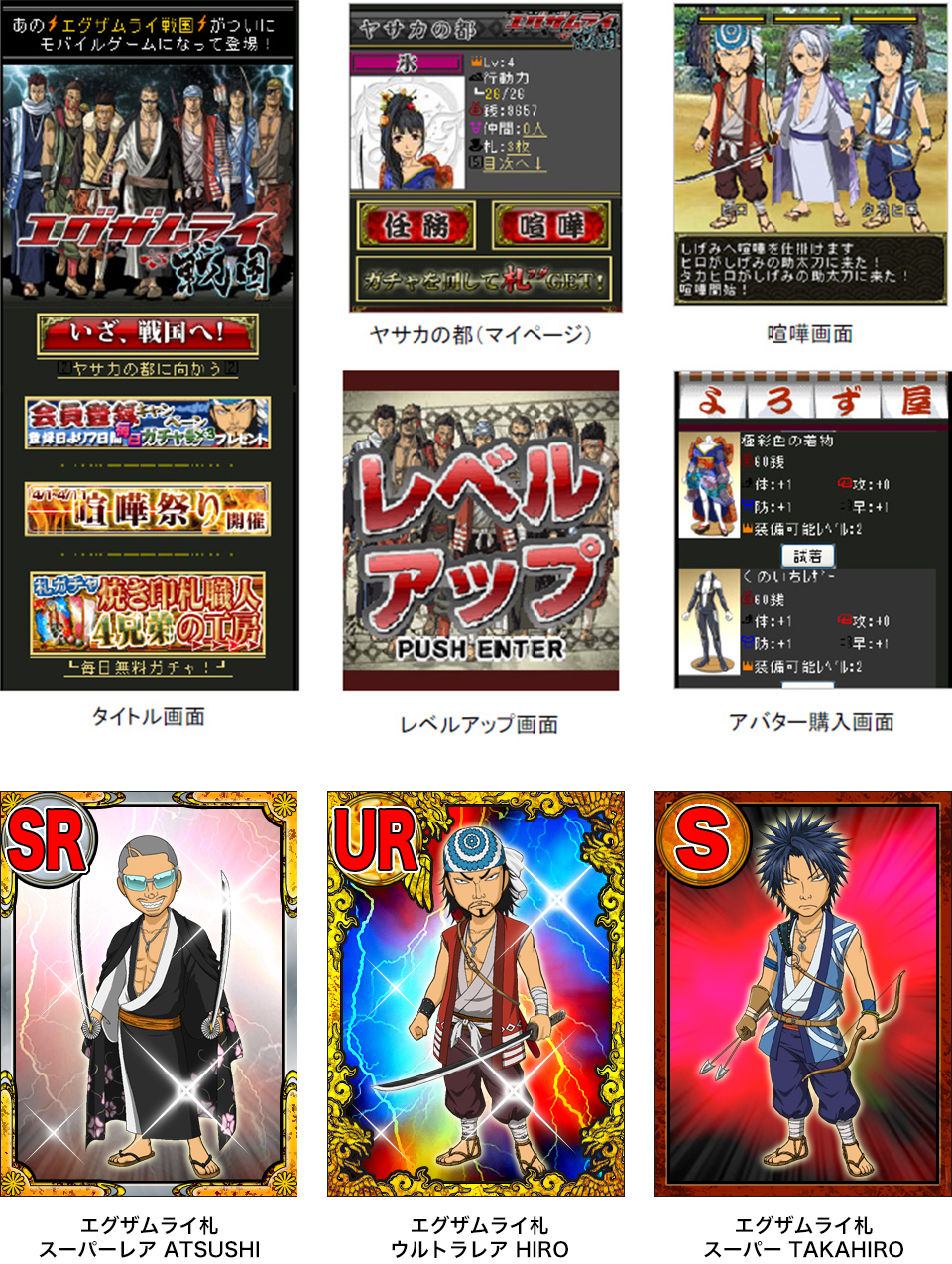 Avatars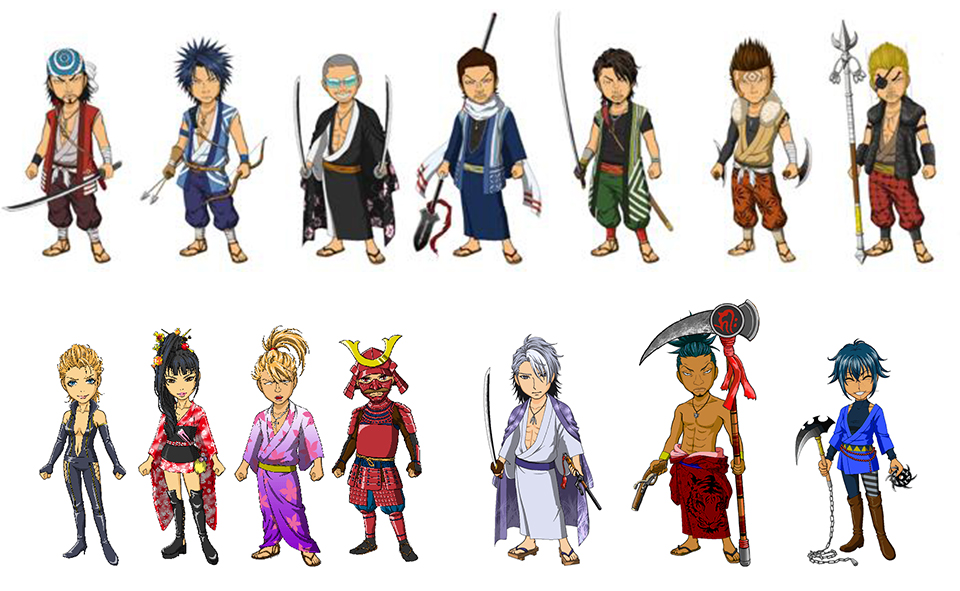 Examurai Sengoku Service Overview

Distribution Date: August 16, 2011

Supported Models: docomo, au, SoftBank ※Flash Lite1.1 compatible devices
※In order to use the service you must register as a member of Mobage.
How to Access: "Mobage" TOP > Game > RPG
※Access the above via your cell phone.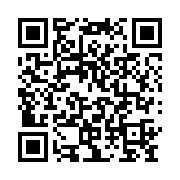 Usage Fee

Free to play/Purchasable Items (※Additional communication fees occur in addition to purchasable items)
Written Representation of Rights

©Takahashi Hiroshi/Examurai Sengoku Production Committee
©Tasuke/ULTIMEDIA Inc.
※All companies and product names mentioned are registered trademarks or trademarks of their respective companies.