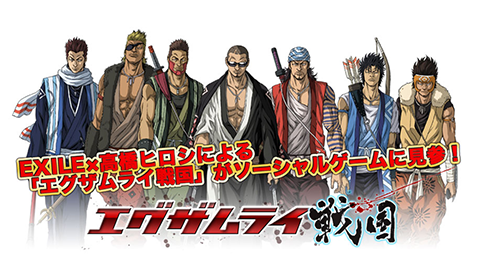 Examurai Sengoku, a Popular Social Game With More Than 500,000 Users, Is Now Available on Mobage for Smartphones!

The Examurai Sengoku Committee, Tasuke (Head Office: Minato, Tokyo; Representative Director: Minako Uehara), and ULTIMEDIA Inc. (Head Office: Hachioji City; Tokyo; Representative Director: Shigemi Sasano) are pleased to announce the launch of the smartphone version of the manga/anime work "Examurai Sengoku" produced by HIRO of EXILE on the social networking service "mobage" operated by DeNA (Head office: Shibuya, Tokyo; President: Isao Moriyasu).
The smartphone version of Exumurai Sengoku is available on both Android and iOS devices.
We hope that more people will be able to enjoy the same content as the popular feature phone version.
Enjoy the large screen of a smartphone and the ease of operation allowed by them.
Examurai Sengoku Service Overview

URL: http://pf.mbga.jp/12002282
Fee: Free (some charges apply)
Supported Devices: Android (Excluding some devices)
     iOS (Excluding some devices)
How to Access: "mobage" TOP > Games > See more
※Access the above from your smartphone device
※To play the game, you need to register as a member of "mobage"