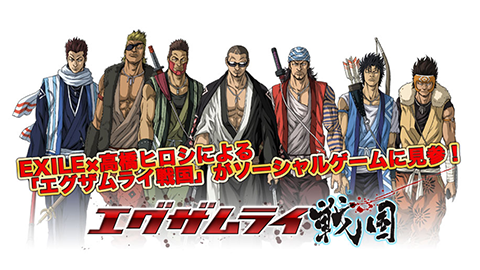 The Examurai Sengoku Committee, Tasuke (Head Office: Minato, Tokyo; Representative Director: Minako Uehara) and ULTIMEDIA, Inc. (Head Office: Hachioji City, Tokyo; Representative Director: Shigemi Sasano) have released a major update for the social game "Examurai Sengoku" on "GREE."
Update Overview
・Sped Up "Kenka Flash"
・Expanded the talisman deck
・Added the talisman awakening feature
・Added the Senja Talisman Exchange
・Enhanced group play
・Added the "Battle Theater"
Update Details

Kenka Flash has been enhanced for a faster and more powerful presentation!
This makes for even more exciting PvP than ever before.
You can now set up to seven cards instead of two.
You can use the main two cards in fights, and up to seven samurai cards in total in special events such as the Battle Theater. This greatly increases the strategy of the game.
Also, when a talisman exceeds level 100, you can "awaken" it, increasing its growth limit and allowing it to grow into a stronger talisman!
The new Senja Talisman Exchange is now available, allowing you to exchange the Senja Talisman you've won so far in events for powerful cards and various other perks, such as granting special moves to samurai talismans!
All you have to do is send an invitation email and you'll get a gacha ticket!
In addition, if the friend you invite plays Examurai Sengoku, that player also gets a power boost.
Future Developments

The "King Kagura" event, in which players work together to defeat a single boss character.
It will be a pretty difficult event, but if you can successfully defeat it, you'll get a super rare card!
Features of the Game

Examurai Sengoku is a card battle RPG where the objective is for players to become friends with 'Examurai' to defeat their nemesis Kagura.
To defeat your nemesis "Kagura," you will complete missions from the members of Examurai and hone your skills to become a true samurai as you battle enemies.
Battles employ a card system, and there are more than 200 Examurai cards that you can enjoy collecting.
There are also a number of interaction elements with other players.
You can become friends through "fights," fight for the treasures scattered around Yasaka, and even give them away as gifts.
In addition, you can buy beautiful Japanese avatars and weapons at Yorozuya, so female players who want to stand out with their avatars as opposed to focusing on gear can also enjoy the game.
What is Examurai Sengoku?

Examurai Sengoku is an anime and manga work based on the music unit EXILE.
The work is based on the plan and original idea of Hiro, the leader of EXILE, the character design was drawn by popular manga artist Takahashi Hiroshi, and the TV animation was broadcast on Nippon TV's "EXILE GENERATION."
The popular manga "Examurai Sengoku G" is now being serialized in Akita Shoten Monthly Shonen Champion.