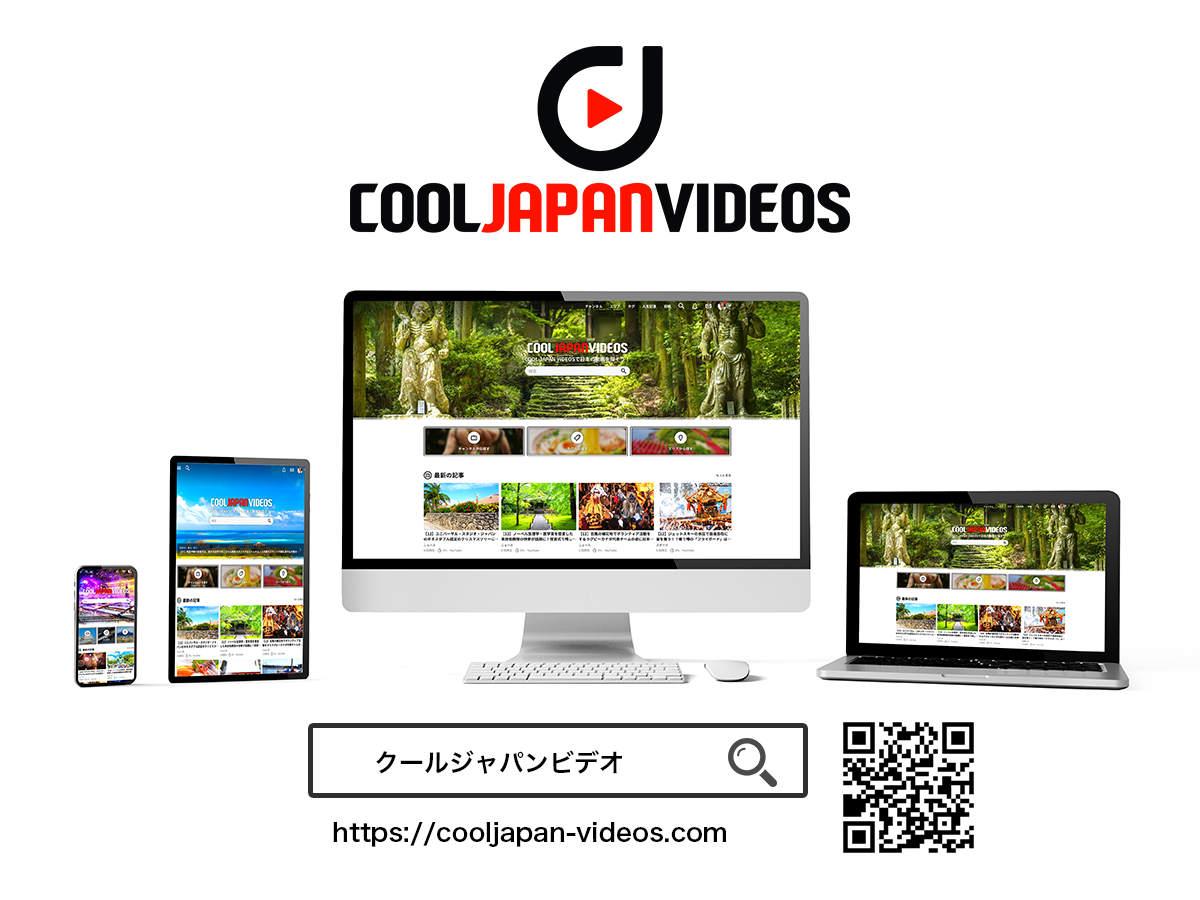 ULTIMEDIA, Inc. (Head Office: Hachioji City, Tokyo, Representative Director: Shigemi Sasano) is pleased to announce the domestic release of "COOL JAPAN VIDEOS," a social video curation media that gathers videos that focus on the appeal of Japan, on September 16, 2020.
In addition, COOL JAPAN VIDEOS is equipped with a real-time translation feature, which eliminates language barriers and facilitates smooth communication between Japanese speakers and non-Japanese speakers all over the world. Today we're releasing the Japanese version. The English version will be released for English-speaking countries in November and Chinese and Korean versions will be released in 2021, with other languages to be added in the future.
▼What Is COOL JAPAN VIDEOS?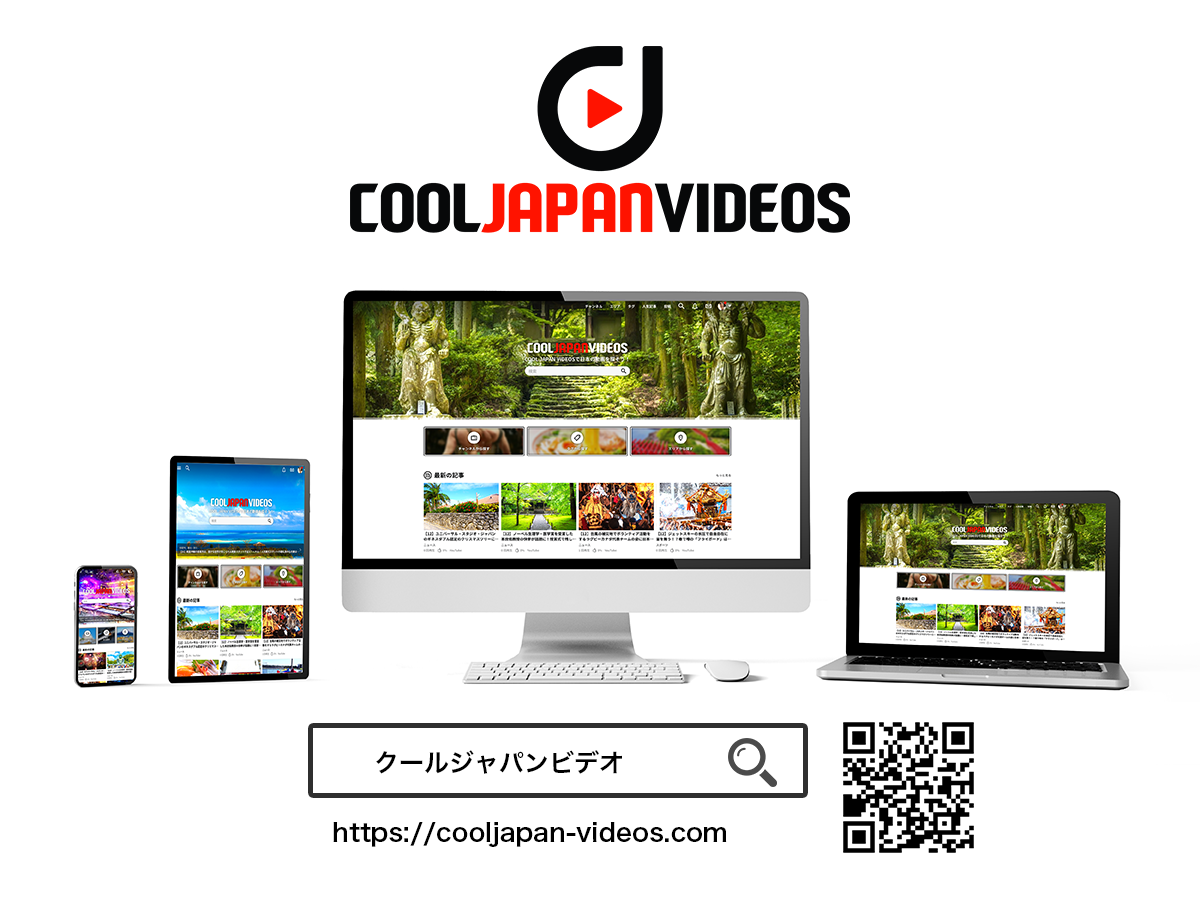 【URL】https://cooljapan-videos.com/en?0001=001
COOL JAPAN VIDEOS is a social video curation website that collects videos dedicated to the beauty of Japan and shares them with people around the world who are interested in Japan.
COOL JAPAN VIDEOS is a tool for Japanese people to rediscover the charms of Japan, and for those who don't know much about Japan, it aims to convey the charms of Japan through videos and the easy-to-understand informational articles that accompany them, to deliver accurate information to users all over the world.
▼Features of COOL JAPAN VIDEOS
◆A World First! Users From Around the World Who Like Japan Taking Notice.
 An Inbound Video Curation Media Packed Full of Japan's Charms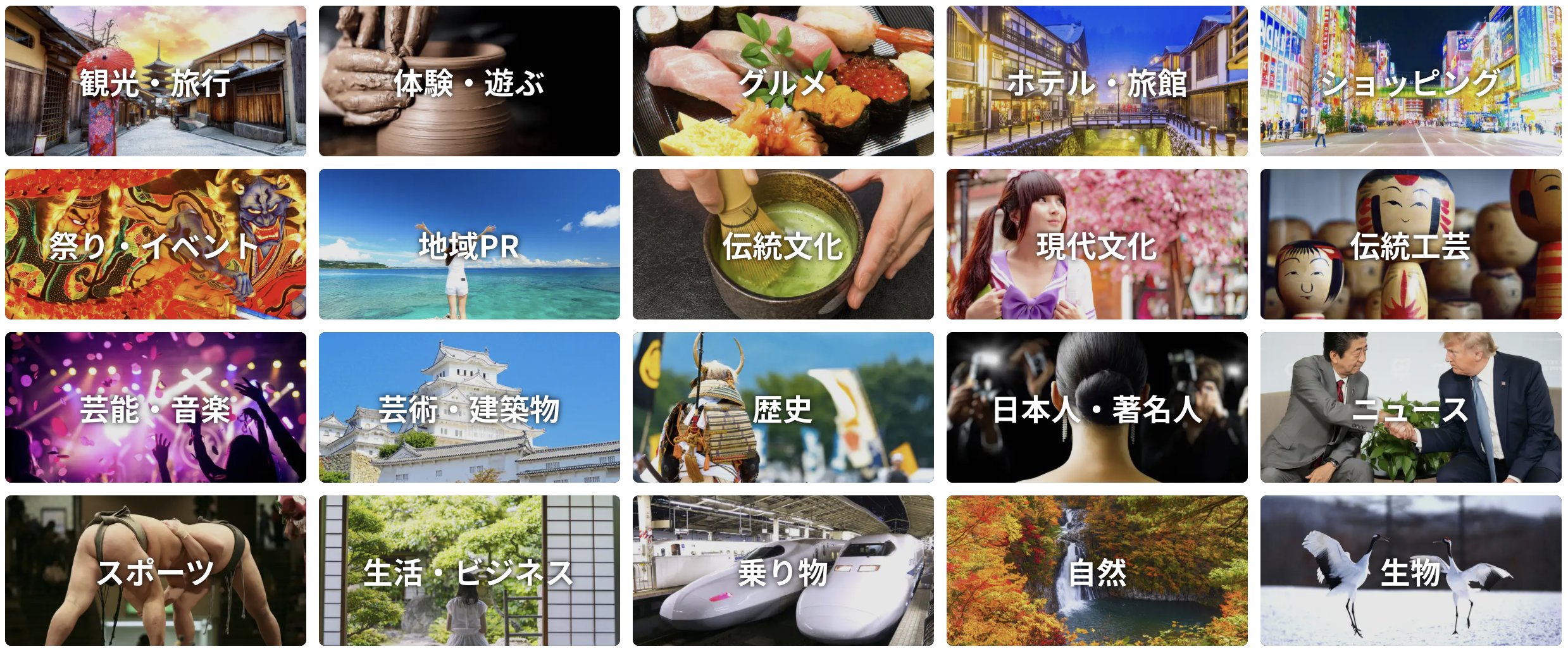 At the time of release, COOL JAPAN VIDEOS featured a searchable design with a collection of about 1,800 pieces of content (with more to be added) with videos focused specifically on Japan.
・A free word search feature to quickly find the videos you want to watch
・Able to search in 20 different categorized channels
・An area search that allows users to search using a map of Japan
・A tag search feature that allows users to search by the tags associated with each video
◆Equipped With a Real-Time Translation Feature
 Users from around the world can enjoy communicating smoothly in real time!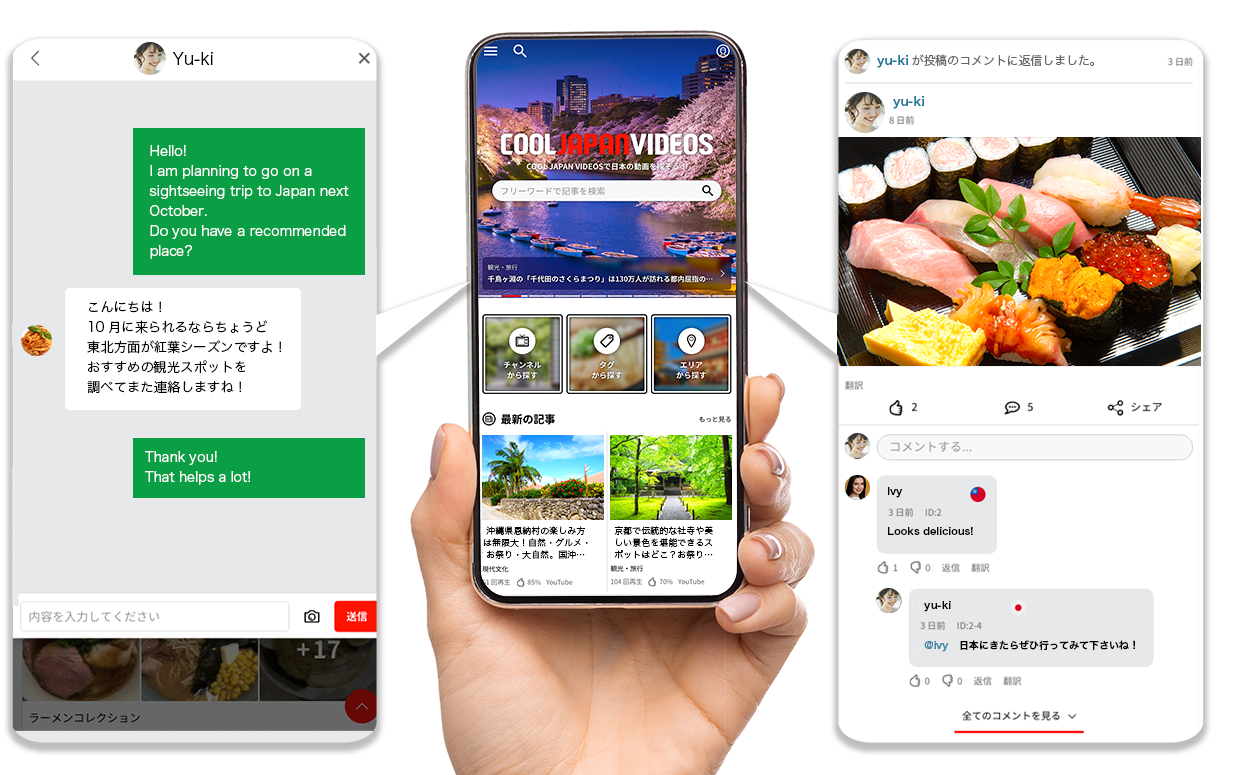 As a social-style inbound site, we have a real-time translation feature! Users from all over the world can communicate smoothly with each other regardless of language barriers. Enjoy sharing the charms of Japan with other users from not just Japan, but from all over the world, and exchanging information about Japan while communicating across national boundaries!
◆Original Video Descriptions That Contain a Variety of Information Related To the Video With Each Language Translated by Native Speakers!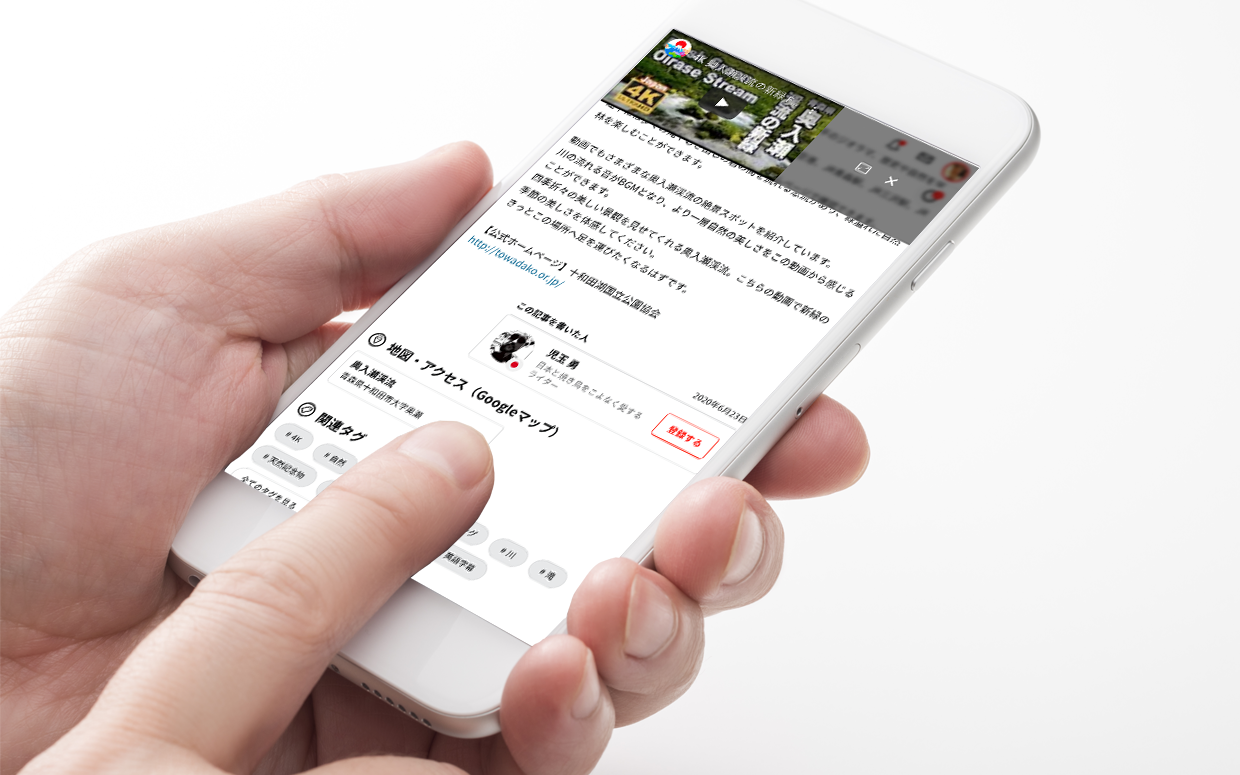 Each video featured on COOL JAPAN VIDEOS is accompanied by an original video description written by our team of writers, all translated into other languages by native speakers. Each video is also accompanied by links to Wikipedia, TripAdvisor, official websites, information resources, Google Maps, etc., so users can quickly find what they're looking for.
▼The Target Audience of Cool Japan Videos
1. Those outside of Japan looking for information about Japan, Japanese people, people interested in Japanese culture, foreigner nationals interested in Japan, foreign nationals living in Japan, foreign nationals who are considering traveling to Japan, foreign nationals traveling in Japan, Japanese people considering domestic travel, Japanese people who want to know more about Japan

2. Those looking to communicate the charms of Japan on a social platform where many people from abroad gather, those looking to communicate with people from overseas, those looking to connect with people from abroad who share their interests, those looking to share the various charms of Japan with people in other countries, those looking to spread Japan's unique services and culture abroad, those looking to share attractive tourist information about Japan's different regions

▼Background of COOL JAPAN VIDEOS' Launch
◆Our Reason for Creating COOL JAPAN VIDEOS
Japan is full of famous tourist spots that everyone knows, as well as wonderful, lesser-known places that are known only to a handful of people. Foreign travelers have no way to know about these outside of famous tourist destinations listed in travel guides, so we wanted to share the hidden charms of Japan with the rest of the world.
Until now, there have been no professional video curation sites that introduce the charms of Japan using video, and since there are so many videos uploaded on major video sites, it's difficult to find what you're looking for, and in some cases, the information is incorrect since the videos are produced by people who aren't from Japan, but are presented as videos of Japan.
In addition, there are a lot of very attractive videos produced by local governments and regional tourism associations to promote their region, but there are also many videos that are buried beneath the massive number of videos that exist and their views are much lower than they should be. Therefore, we choose videos that are full of information about Japan, and by posting correct information as opposed to misinformation, we hope that people in Japan can use the service as a tool to rediscover Japan, and that users from all over the world will be able to watch COOL JAPAN VIDEOS and find something that makes them want to come to Japan, and in turn, the number of people who want to visit Japan will also increase. We also created COOL JAPAN VIDEOS with the hope of increasing the number of people who are attracted to Japan.
◆On the Release of COOL JAPAN VIDEOS
2020 was supposed to be the year the Tokyo Olympics would be held and was supposed to be the highest demand of inbound tourism that Japan had ever seen.
However, the sudden epidemic of the novel coronavirus has plunged the world into a situation that no one could have predicted just a year ago.
COOL JAPAN VIDEOS was also supposed to be released in April 2020, but this too was unfortunately postponed.
The tourism industry has been hit hard especially in Japan, and we felt a sense of urgency every day that if things continued as they were, there would be no longer any attractive, long-established inns, restaurants, etc., to serve as places to receive people from abroad after the corona virus has been overcome.
While thinking "Is there anything we can do NOW?" we continued to work on COOL JAPAN VIDEOS while improving the content so that people in Japan could enjoy it during a period of time that we had to postpone its release, in order to boost the economy through travel, experiences, gourmet food, etc., after the world has overcome the virus.
If we can help to ensure the future of the tourism industry, cultural organization, and traditional lodging facilities, even if slightly, we would be very happy.
We hope that the world will overcome the novel corona virus as soon as possible, and that we can use this time to rediscover the hidden charms of Japan, and that people around the world will come to understand the beauty of Japan through COOL JAPAN VIDEOS.
In addition, we would like to share the appeal of Japan with people all over the world through COOL JAPAN VIDEOS with the unified effort of the government and private sectors, the tourism industry, and local communities in every part of Japan.
▼About the Videos on COOL JAPAN VIDEOS
The Service posts videos from YouTube and other major video sites using the embedding API of those sites. We are currently collecting mainly YouTube videos, but there are still many attractive videos that we have not yet found. If you have a video that you would like to recommend (your own or someone else's), please click the link below.
Click here for more information (https://cooljapan-videos.com/en/submit)
※Videos from local governments and tourism associations that encourage visitors to visit Japan are especially welcome.
▼Future Developments
◆The First Phase of the Release Campaign
Content: COOL JAPAN VIDEOS Photo Contest Campaign
Start date: September 17, 2020
(*Details will be published in tomorrow's press release)
◆The Second Phase of the Release Campaign
Content: #OnlineGoToTravel Twitter Campaign
Start date: September 18, 2020
(*Details will be published in a press release in the coming days)
Then, in November 2020, we plan to release English-speaking languages, translations for Chinese and Korean-speaking countries, which will be the key to inbound demand, and gradually translate for other countries around the world.
▼Company Profile
Company Name: ULTIMEDIA Inc.
Representative: Representative Director, Shigemi Sasano
Address: 193-0832 Tokyo, Hachioji, Sandamachi, 3 Chome-18-17 West Eight Building 7F
Established: March, 2010
Business Description: Information and Communication Industry
Capital: ¥10,000,000
URL: https://www.ultimedia.co.jp/
<Contact Information>ULTIMEDIA Inc. Contact: Maeda
Phone: +81 042-673-6741 Email: press@ultimedia.co.jp