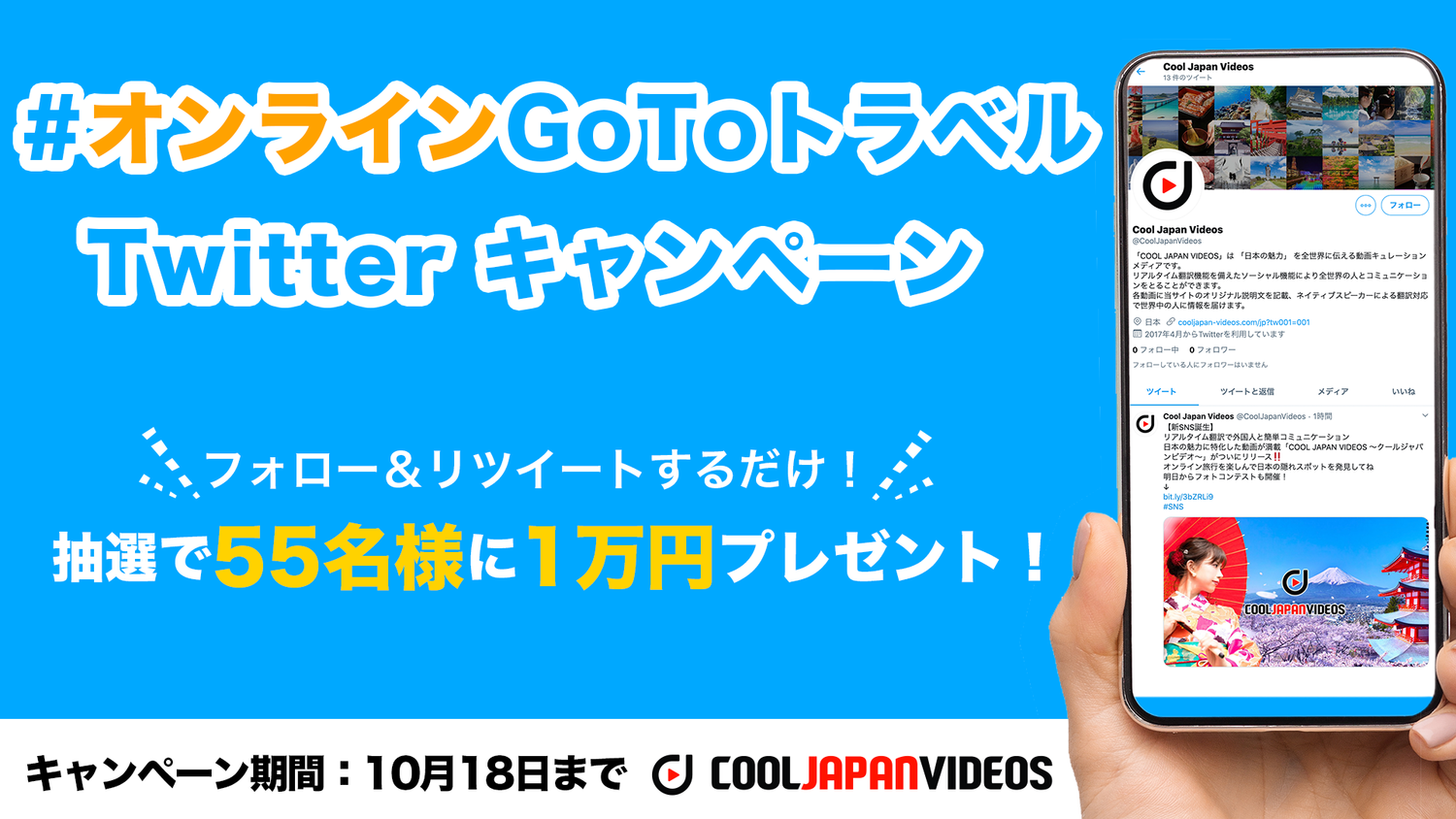 As the second part of the "COOL JAPAN VIDEOS" release campaign, ULTIMEDIA Inc. (Head Office: Hachioji City, Tokyo, Representative Director: Shigemi Sasano) is launching the "#OnlineGoToTravel Twitter Campaign" from September 18 to October 18, 2020 so everyone can enjoy traveling from home!
▼COOL JAPAN VIDEOS Twitter Campaign Site

【URL】https://cooljapan-videos.com/en/campaigns/online_goto_travel_202008
▼Campaign Description
Follow the official Twitter account "@CoolJapanVideos" and retweet the target tweets. 55 winners will be selected in a drawing to receive ¥10,000 yen in travel support money.
▼What Is COOL JAPAN VIDEOS?
COOL JAPAN VIDEOS is a social video curation website that collects videos dedicated to the beauty of Japan and shares them with people around the world who are interested in Japan.
COOL JAPAN VIDEOS is a tool for Japanese people to rediscover the charms of Japan, and for those who don't know much about Japan, it aims to convey the charms of Japan through videos and the easy-to-understand informational articles that accompany them, to deliver accurate information to users all over the world.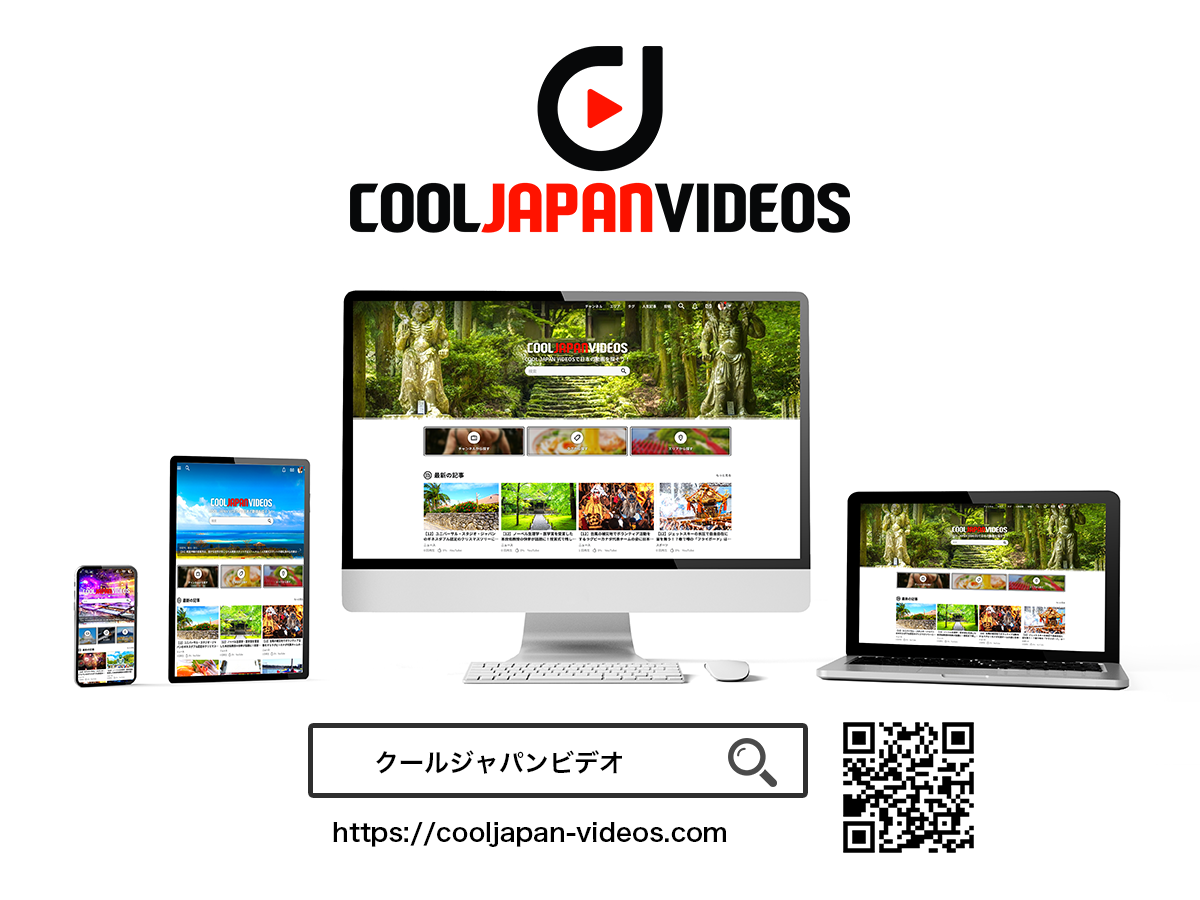 Service Name: COOL JAPAN VIDEOS
Official Release Date: 9/16/2020
Service URL: https://cooljapan-videos.com
Service Cost: Free
COOL JAPAN VIDEOS will be released for English-speaking countries in November and Chinese and Korean versions will be released in 2021, with other languages to be added in the future.
▼ "#OnlineGoToTravel Campaign"|Your Retweets Will Help Support Japan's Tourism Industry!
In 2020, just as the Tokyo Olympics were around the corner and ready to bring the largest influx of inbound travelers that Japan has ever seen, the novel corona virus epidemic broke out, plunging the world into a situation that no one could have predicted just a year prior.
COOL JAPAN VIDEOS was also supposed to be released in April 2020, but this unfortunately needed to be postponed as well.
At the time of its production, the service's target audience was only overseas, but we continued to work on it, improving the content so that people in Japan could enjoy it during a period when we had to postpone its release in order to boost the economy through domestic travel, experiences, gourmet food, and more.
In Japan, tourists are gradually coming back to the country thanks to the "GoToTravel" initiative launched by the government, and we are holding the "#OnlineGoToTravel Twitter Campaign" to celebrate the release of "COOL JAPAN VIDEOS" with the hope that our service will help promote tourist destinations through online travel.
For those who are unable to travel due to the corona epidemic and those who are struggling to cope with the daily restraint of staying indoors, "COOL JAPAN VIDEOS" is here to offer simulated sight-seeing and experiences through online travel in the hope that it will help them overcome these hard times.
By spreading this campaign to many people through each of your retweets, we hope that it will help heal those who cannot currently travel and promote domestic tourism, which is suffering from a decrease in tourists, and brighten the world that has been darkened by the corona.
▼Campaign Overview
Contents: Check out "COOL JAPAN VIDEOS" and enjoy traveling at home! Follow and retweet the official Twitter account to enter a prize pool of ¥550,000!
Period: 9/18/2020 – 10/18/2020
Eligible Participants: All ages, genders, and nationalities welcome
How to Participate: Follow the official Twitter account "@CoolJapanVideos" and retweet the target tweets.
※Please refer to the campaign page for more information on precautions, etc.
▼Company Profile
Company Name: ULTIMEDIA Inc.
Representative: Representative Director, Shigemi Sasano
Address: 193-0832 Tokyo, Hachioji, Sandamachi, 3 Chome-18-17 West Eight Building 7F
Established: March, 2010
Business Description: Information and Communication Industry
Capital: ¥10,000,000
URL: https://www.ultimedia.co.jp/
<Contact Information>ULTIMEDIA Inc. Contact: Maeda
Email: press@ultimedia.co.jp
TEL: 042-673-6741 FAX: 042-674-6742
Phone Reception Hours: 10:30 AM - 7:30 PM (Also in office from 9/19 - 9/22)